Enrol with HCAI
Enrolment Step 2: How to Enrol
Enrolment Step 2: How to Enrol
---
Choose a Submission Method
You can submit OCFs via HCAI in two ways: Using the web application at www.hcai.ca, or using Practice Management Systems (PMS). PMS is desktop software that integrates with the HCAI system. Anyone can access www.hcai.ca, but if you plan to use PMS, you'll have to contact a PMS Vendor to get set up. You can also update your submission method after enrolment if you change your mind.
Fill Out and Fax or Email Enrolment Form
Useful Definitions
The following information will help you prepare to fill out the HCAI enrolment form:
A Health Care Facility is the health care business, billing entity, clinic or practice. A Health Care Facility may be a business with one or more health care providers.
To enroll with HCAI you will need: The legal or registered trade name of the business under which your Health Care Facility operates, the address, the phone number, and the email address.
Please note: Each service location must be registered separately with HCAI. Multiple branches of a health care business cannot use the same HCAI account. Each Facility location enrolled with HCAI operates separately, maintaining its own Authorizing Officer, Facility Users, and OCF documents.
The Authorizing Officer, or AO, is the person who signs the HCAI Enrolment Form. The AO should be someone who is involved in the day-to-day management of the Health Care Facility.
The AO receives the first HCAI user profile and is responsible for setting up all the other users of the HCAI system. For more information about the responsibilities of the AO, review the Authorizing Officer page.
Service Provider Licensing - Separate from the HCAI system, FSRA oversees the Ontario government's service provider licensing (SPL) regime.  A current service provider licence issued by FSRA is required for a Health Care Facility to qualify for direct payment when invoicing automobile insurers via HCAI for listed expenses.
Applying for a FSRA service provider licence is a separate process from your HCAI enrolment. You must complete your HCAI enrolment first before applying for a licence.
A Service Provider – as defined by FSRA for the purposes of Service Provider Licensing – is a business that provides specified goods or services (known as "listed expenses") to statutory accident benefit claimants, and for which the business submits an invoice through HCAI for direct payment by automobile insurers.
In order to be paid directly by an insurer, a valid Service Provider Licence is required at the time of service or treatment and at the time the invoice is submitted. Click here for more information on Service Provider Licensing.
Providers are those individuals who offer care at your Health Care Facility.
Providers must be associated with each Health Care Facility that they work at; that is, Providers may be associated with multiple facilities.
Please have your Facility's Provider names and, if they are regulated, registration numbers available before you begin filling out the HCAI Enrolment Form.
All Providers must sign an HCAI Terms and Conditions form:
Choose an Authorizing Officer
Decide who will be your Facility's Authorizing Officer (AO). Your AO will have to sign the HCAI Enrolment Form.  Click here to review the AO's other responsibilities.
Choose your AO carefully, because after your Facility is approved, any changes to the AO's name will immediately put your Facility in a "Not Approved" state. If your Facility is in a "Not Approved" state, you will not be able to submit OCFs to Insurers until you have submitted a new printed copy of your Enrolment Form, signed by the new AO, to HCAI Facility Support.
Complete the Online HCAI Enrolment Form
HCF - Complete the Online HCAI Enrolment Form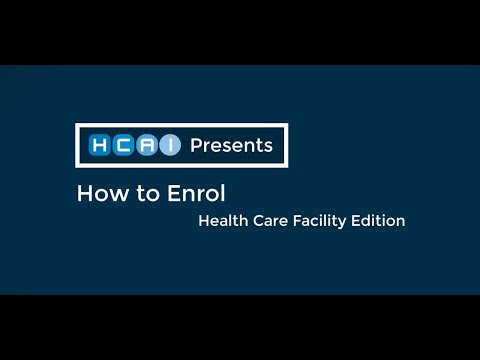 Go to www.hcai.ca and click on "Begin Enrolling".
The Enrolment Form opens in a new window. Each field marked by an asterisk must be completed.
Enter your Facility Name, or the business' legal name or the trade name under which your HCAI Health Care Facility operates.
Please note: If you choose to apply for FSRA's Service Provider Licence after enrolling with HCAI, the Facility Name entered in your HCAI Enrolment Form must match the business legal name or trade name you provide to FSRA. If the name on your Service Provider Licence does not match the Facility Name in HCAI, you won't be able to submit an invoice and be directly paid by the insurer. For more information on this, visit FSRA's About the Service Provider Licence in Ontario page.
Enter your Facility details: Facility telephone number (required), and fax and default per-KM rate (optional).
Enter your Facility address.
You have the option of entering two different addresses for your Facility – the Billing Address (where Insurers should send payments for treatments and services) and the Service Address (where treatments or services are performed).
In the Payee section, enter the business or individual to whom cheques should be addressed in the "Cheque Payable To" field.
In the Payee Field Editable on Invoices field, you can decide if you would like the option to edit the Payee field on invoices.
Enter the name and email address of your AO.
Make sure the email address is correct – the AO is the primary contact for HCAI communications, so if this email is wrong your Facility will miss important information from HCAI as well as password reset emails.
Create a user name for your AO. The AO will use this to sign in to HCAI.
The user name must be unique in HCAI and contain no spaces.
Add an additional contact to your HCAI account in the Contact One section. Adding a Contact Two is optional. If your Facility is a "sole practice" Facility, the Authorizing Officer and Contact One will be the same person.
In the HCAI Submission Method section, if you are going to use the HCAI web application by signing in to your account at www.hcai.ca, select "No" for "Practice Management System (PMS) Integration?"
If you are going to access HCAI by integrating with a PMS vendor, select "Yes" for "Practice Management System (PMS) Integration?" You will still be able to access the HCAI system via www.hcai.ca, but you will also access the system via PMS software.
Enter the name of the PMS Vendor whose software will integrate with HCAI.
Create a unique PMS User Name to use when you log in via PMS. The PMS User Name cannot be the same as the Authorizing Officer's User Name.
Add Providers to your Facility. Every person who delivers care to patients at your Facility must be added to your list of Associated Providers.
Click the "Add Provider" button and complete each field in the Provider Details section. (View screenshot)
If you like, you can enter a default hourly rate for each Provider. This will be used to auto-populate certain fields when filling out an OCF.
If a Provider's tenure at your Facility has an anticipated end date, you can enter it. After this date, the Provider will no longer have access to your Facility's HCAI account. This field is not mandatory.
Click the "Add Profession" button and use the drop-down window to classify what type of Provider you are adding to your Facility.
If the Provider is a member of a health regulatory college, enter their registration number.
Click the "Add" button to add the Provider to your Facility.
If your AO is also a Provider, s/he must be added to the list of Associated Providers
Once you have added all Associated Providers for your Facility, press the "Submit" button to submit your Enrolment Form. Note: This is not the final step of enrolment. Please continue reading for further instruction. At this point, your Facility is not yet enrolled.
Check your email inbox. Two separate emails from systemdelivery@hcai.ca will be sent to your AO. One will contain the user name(s) and the other will contain a link to create a password. You have 24 hours from the time the email was sent to click the link. Review the Password FAQs for tips.
If you selected "Yes" to "Practice Management System (PMS) Integration?" your PMS User Name and password will appear on screen. You must copy and paste the log-in information on screen into an email to send the user name and temporary password to your PMS vendor.

Once your new password has been saved, you must review and accept the HCAI Online Policy to access the HCAI application.
Record the User Name(s) and password(s) in a safe place, as you will require this information in Enrolment Step 3.
The User Name assigned to the AO is their User Profile.
A User Profile should be thought of as a set of master keys to patient records and should not be shared.
Anyone that needs to access your Health Care Facility in HCAI should be given his or her own User Profile. Instructions on how to add a user can be found on our Updating User Information page.
If you selected "Yes" to "Practice Management System (PMS) Integration?" your PMS User Name and password can now be sent to your PMS Vendor to continue the PMS set-up process.
Be sure to advise your PMS Vendor that your HCAI facility has not yet been approved.
Print the Enrolment Form
Click on the "Print Registration Form" button to print the document.
If the Form will not print, your internet browser may be blocking the pop-up window for the PDF file.
If your browser is blocking the pop-up, you must change your pop-up settings. To learn more about how to do this, review the Pop-Ups information on the Computer Requirements and Tips page.
Once the browser settings have been updated to allow pop-ups from www.hcai.ca, download, open, and print the form as a PDF file.
The AO must sign the printed Enrolment Form on page 3 in Section C.
Submit Printed Form to HCAI Processing
Once your AO has signed the printed HCAI Enrolment Form, this form must be submitted to HCAI Processing.
Scan and email the first four pages of the form to facilityenrolment@hcaiinfo.ca or fax the first four pages of the form to HCAI Enrolment at 416−497−6505.
If you have followed the enrolment steps correctly, your Health Care Facility will be approved within five business days.
Once you've emailed or faxed the Enrolment Form to HCAI Processing, continue to Step 3: Get Approved and Set Up.